So, you want to take the faster route to cover up bald or thinning areas on your scalp, but you don't know where to start? With so many similar businesses popping up, we understand that finding the best help, or at least one that you can trust, is challenging. That's why we prepared this blog to help you make wise choices in choosing your hair replacement system. Read on and enjoy!
Wearing a hair replacement system is a long-term commitment
Choosing hair replacement systems means setting aside a budget for the long-term. Be prepared to shell out some cash, otherwise, don't do it all.
A long-term commitment to hair replacement systems also means treating them like your own hair:
· Regular hair washing at home
· Proper styling & moisturising
· Trimming your natural hair regularly
· Colour touch-ups so that your hair system matches your natural hair
The natural-looking hairpieces will usually last from 3 to 6 months. But if you know how to take care of them well, they can last up to 8 months.
PLEASE NOTE, the ones with extremely thin designs, even though it is very natural-looking, may only last only 1 month! Anything that can last over ONE year, it is very likely you are wearing a dinosaur-like thick piece with thick hair. Ask yourself, is this the look that you really want?
The hard truth is: if money is a problem, perhaps it's better not to buy. Consider other options.
Remember that you are not simply buying hair; you're getting your confidence and your unique look back! That's invaluable.
Price versus Quality, you can only choose one.
While everyone loves a good bargain, cheaper isn't always better. It can be tempting to find low-cost hairpieces, but you can't always be sure if the quality meets your expectations.
If you pay for a cheap piece, please accept that it will not look natural. It's as simple as that!
Too many places are showing their so-called cheap hairpieces on Facebook or Instagram; look closely at the photos and you will see all the loopholes that tell you that it's not real. Surely you would not want people to know you are wearing a hairpiece?
Cheap hairpieces usually come with a thick base material, thick hair with an unnatural knotting method which makes it very obvious that you are wearing a hairpiece.
A Hair Replacement System is a piece of art that is handmade from scratch. It is labour intensive.
During this pandemic period when supplies went down, the supply chain was badly affected – factories shut down, and countries closed borders. Labour cost is therefore high, especially during this pandemic but the quality may actually go down.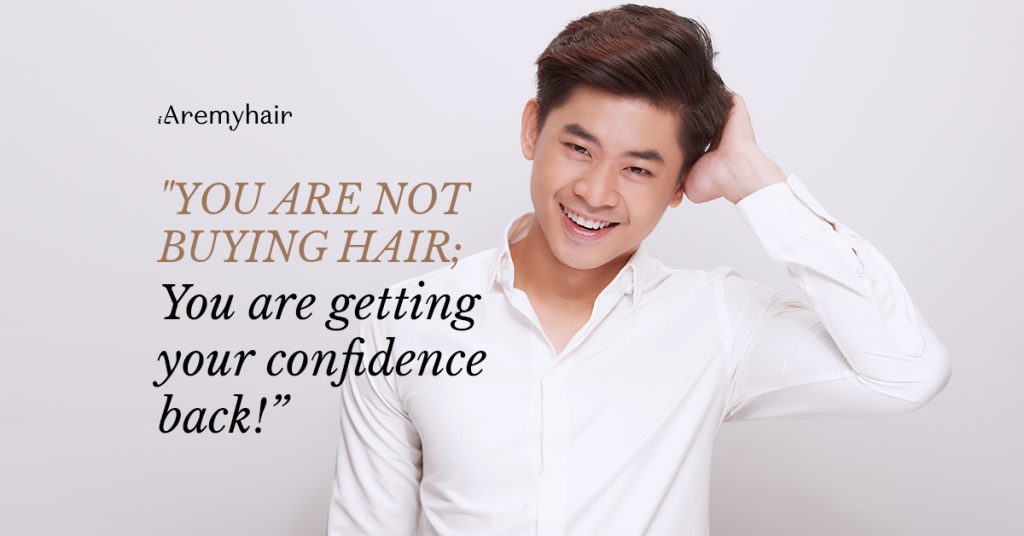 Read 5 Factors in Choosing a Hair Replacement Studio (Besides Price)
Beware of Exaggerated Marketing Promises in Singapore
We are sharing these as an insider and one of the pioneers in the industry with many years of experience. After hearing so many INTERESTING stories, we want to do our best to help you make an informed and smart decision with something so close to your heart (and head).
Shop around and you will see that many hair centres resort to all sorts of marketing tactics.
One claimed to have 10 years of haircut experience, we know for a fact that THE PERSON is just a shampoo assistant with very basic haircutting services. We advise buyers to test the stylist's skills first, if the hair piece is cut wrongly, there is no way back. You can end up with an expensive experience. Ask the stylist to cut your hair first, then ask for ideas on how you will look like at the end.
One claimed to be a trainer for the local HAIR REPLACEMENT STYLISTS, that's not true, the person WAS JUST A REGULAR HAIR STYLIST STARTING FROM THE BEGINNING.
One claimed to have a professional membership IN HAIR REPLACEMENT. We advise buyers to do your due diligence. Do a simple google and you will find that there is actually no such membership in this world.
One hair centre claimed that they were voted as the best HRS centre in Singapore. If you look closer, it was established in less than a year.
It's best to choose products and services based on their merits. Unfortunately, bad practices are commonplace and some businesses will say anything, including making false claims. But you can always check by asking around or doing an online search to verify.
Transparent pricing
Hair studios must always have a price list. If you go over it, you may notice that there are places that charge you for "extra services," which can surprise you once you get the bill. To avoid bill shock, always clarify if what's on the price list is the full amount or if you should expect "little charges" here and there.
Also, ask ahead if you need to pay for add-ons like expert cleaning of your hairpiece, trimming your original hair, or reattaching a hairpiece—which is usually billed per session. Ask to see a transparent price list. Some give excuses and say it depends on many factors. We agree, but it is still possible to see a list so they will not manipulate the pricing.
Beware of some places where they accept cash only. Why? To save credit card fees so the hair is cheaper? It has been known that THEIR price is more expensive than others. The reason is that it is run by a bankrupt behind it.
Tap here for Aremyhair's Pricing
Always look for a warranty
Hair replacement systems are handmade, so issues may crop up from time to time. Here's where a hair replacement system warranty comes in handy. Again, you will notice many will not give this statement because they have no confidence as well!
No question about it, a responsible hair studio will always be willing to repair or replace faulty products based on the contract terms.
Check AREMY CARE – Aremyhair's Warranty Here
You don't have to be limited to custom-tailored pieces
Some hair studios may say that their hairpieces are custom-made; hence they are more expensive. This is just a marketing myth!
While it's true that anything tailor-made often sounds so much better than buying something off-the-rack, this is not always the case with hair replacement systems. Unless you want a very long hairpiece with very thick density and with a big bald head, you are okay to use a stock system. It fits equally well.
Always look for variety
Some hair studios offer ONLY limited designs, such as a skin system, only because the COST is the cheapest.
Others skip high-end pieces like lace designs because they are more expensive to stock. If you notice that you're only given limited samples, always ask if they can provide more options because you deserve a wide selection to choose from. There are many more types other than skin designs. Therefore, always, always ask for samples that you can see and touch!
Not all packages are worth the price
Some studios will promise to help you save a couple of bucks on "value-for-money" packages. The catch is, that you have to sign up for it during the initial consultation. This is tricky because you're prematurely paying for a service that you're not sure you'll be happy with. You are not even sure if their business will survive. Many places take the money first and disappear or collapse later.
It's easy to fall for these attractive offers, but they often come with hidden charges if you look closely. For example, these packages usually don't include REPAIR, TOUCH UP, HAIR COLOUR fees which can go as high as $100 for every session. What's more, some studios might offer a free hairpiece if you make X number of visits.
WE THINK offers like these are simply not realistic. Businesses need to generate income to cover product development, marketing, taxes, and salaries. These things make up the total cost of your hairpiece. However, some studios go all out on promotions and freebies only to cut corners with cheaper materials just to break even.
At Aremyhair, when you book a short consultation with our hair loss experts, we lay everything on the table so you know exactly how much you need to pay based only on your needs. We never lock you in with packages from the start. Instead, we encourage, especially the new clients, to sign up for our packages only after at least two to three sessions with us. This way, they will at least know what it feels like to wear a hair system and will have a better idea of the long term commitment they are in for. Making sure a client is comfortable in a hair system and happy with our service is of the utmost importance to us to build a long term relationship.
There you have it! These reminders should help you sort through the different hair replacement systems and the hair studios that offer them. But of course if you want to know more, feel free to talk to our team at +65 6225 2022 or +65 9641 3620.